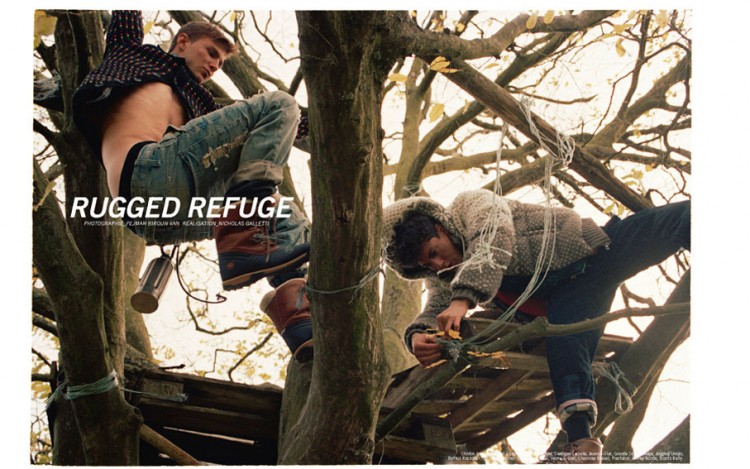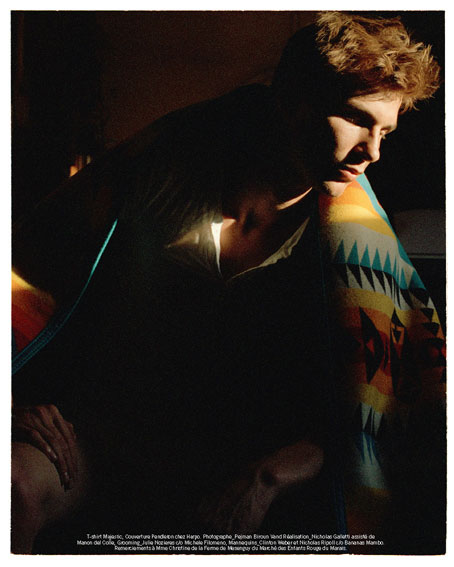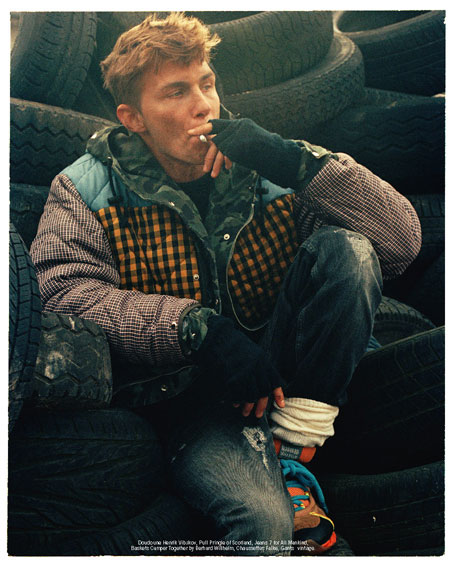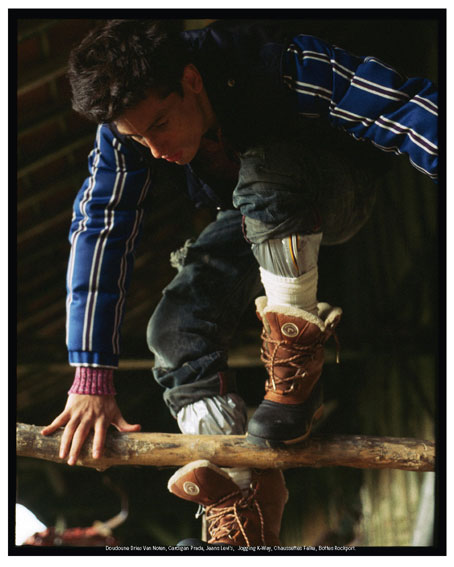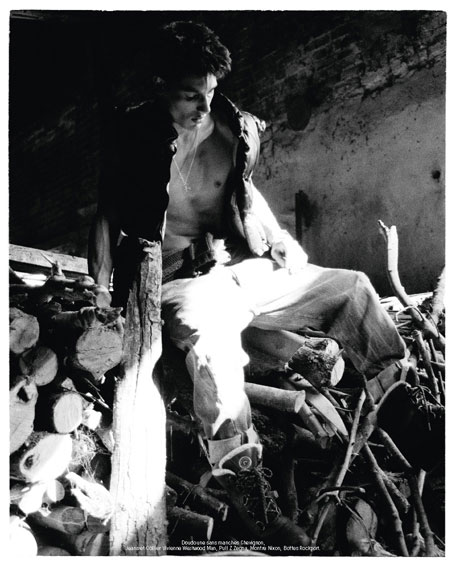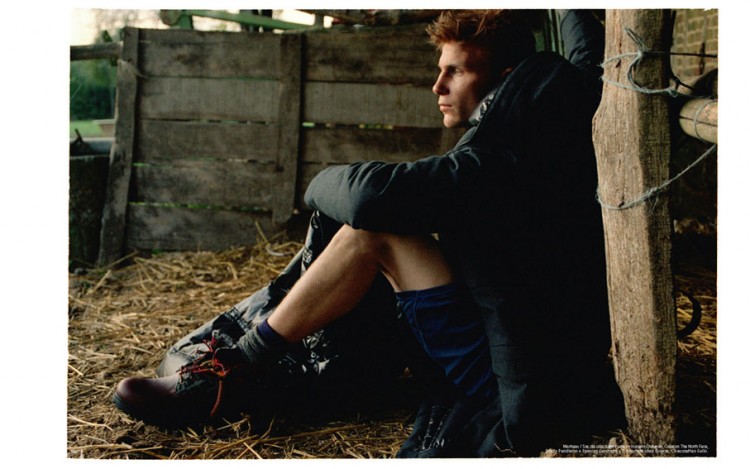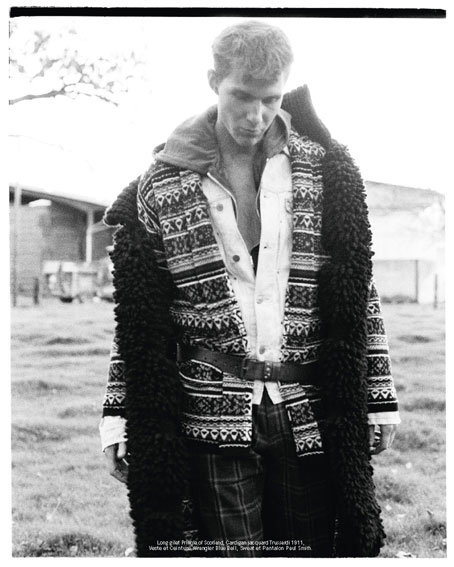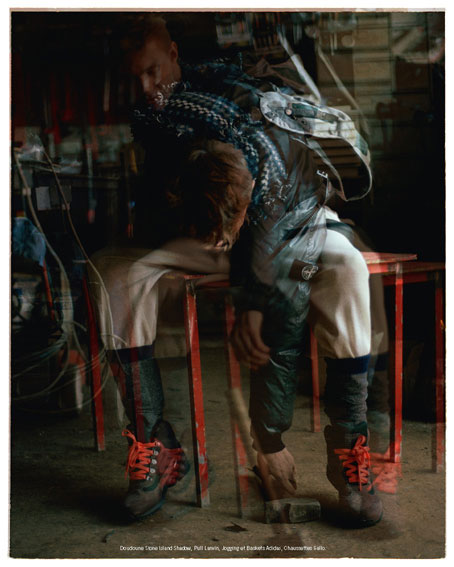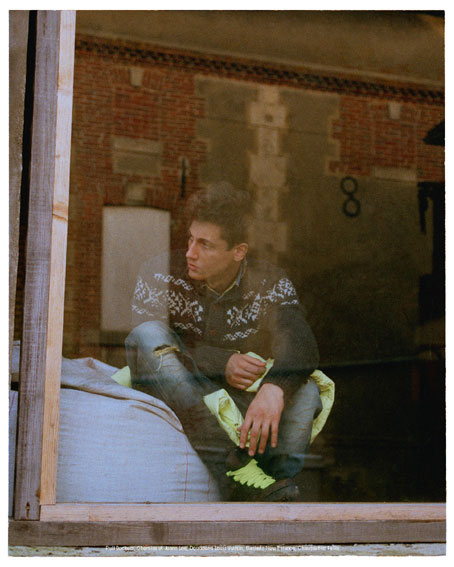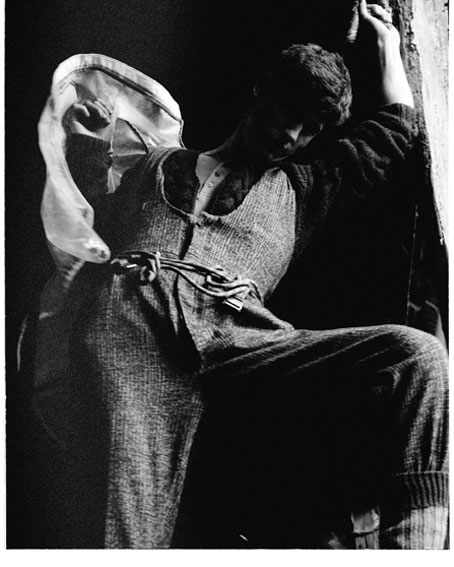 Clinton (gauche) : Haut à capuche Onitsuka Tiger, Cardigan Lacoste, Jeans G-Star, Gourde Sigg Heritage, Jogging Uniqlo, Bottes Rockport. Nicolas (droite): Doudoune D&G, Veste G-Star, Chemise Diesel, Pantalon Olivier Borde, Boots Bally.
Veste K-Way, Salopette Yves Saint Laurent, Cardigan COS, T-shirt Gucci, Chaussettes Dunhill, corde vintage.
Pull Dockers, Chemise et Jeans Lee, Doudoune Louis Vuitton, Baskets New Balance, Chaussettes Falke.
Doudoune Stone Island Shadow, Pull Lanvin, Jogging et Baskets Adidas, Chaussettes Gallo.
Long gilet Pringle of Scotland, Cardigan jacquard Trussardi 1911, Veste et Ceinture Wrangler Blue Bell, Sweat et Pantalon Paul Smith.
Manteau / Sac de couchage Puma by Hussein Chalayan, Caleçon The North Face, Boots Pendleton x Opening Ceremony x Timberland chez Colette, Chaussettes Gallo.
Doudoune sans manches Chevignon, Jeans et Collier Vivienne Westwood Man, Pull Z Zegna, Montre Nixon, Bottes Rockport.
Doudoune Dries Van Noten, Cardigan Prada, Jeans Levi's, Jogging K-Way, Chaussettes Falke, Bottes Rockport.
Doudoune Henrik Vibskov, Pull Pringle of Scotland, Jeans 7 for All Mankind, Baskets Camper Together by Berhard Willhelm, Chaussettes Falke, Gants vintage.
T-shirt Majestic, Couverture Pendleton chez Harpo.
Photographe Pejman Biroun Vand Réalisation Nicholas Galletti assisté de Manon del Colle, Grooming Julie Nozieres ℅  Michele Filomeno, Mannequins Clinton Weber et Nicholas Ripoll ℅  Bananas. Remerciements à Mme Christine de la Ferme de Mesenguy du Marché des Enfants Rouge du Marais.
Extrait DEDICATE 24 – Automne-Hiver 2010/2011